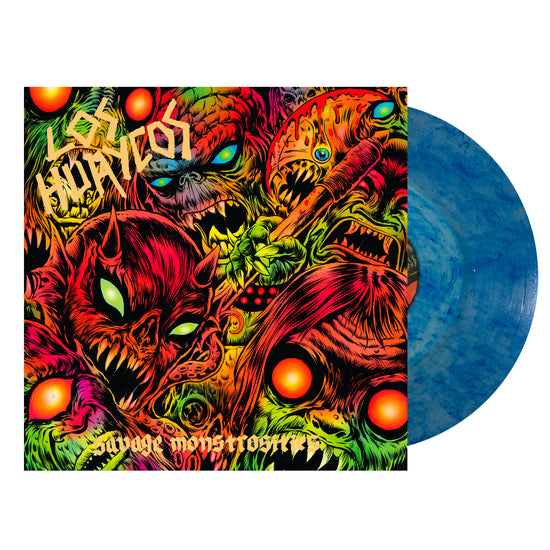 Los Huaycos "Savage Monstrosites" 12"
Regular price

Sale price

$16.75

Unit price

per
Usually ships in 1 business days. This may be affected by holidays, promotions, local weather, etc.
The Story of Savage Monstrosities:

Sometime around June 2017 we had figured out this album was going to be released as a cassette or if the audio length fit, a 7". We had talked to Javier from En Tu Kara, and he was down to keep working with us but that it would have to be as lower budget than 'Ataque Bestial'. That 7" had a glue pocket jacket with gold spot color, gold splatter vinyl, and glossy insert. The idea was to find a cheaper pressing plant and just do 'garbage vinyl' or black vinyl with the cheapest possible covers.

As far as a audio production, we had already self-recorded all the songs on this album. Some of these now demo recordings are on a couple 'Huaycal Engineering' episodes as background music. We were debating whether that same recording should be remixed by an engineer or re-recorded all together. At one point we decided that if we were able to get the funds we'd record with Greg again as he'd done a great job on our previous 7". Either way, the debate came just from lack of funds as the recording could be much better.

Come late August 2017 Ryan Glorioso from Paramount contacted us through our Bandcamp to be on a Netflix show called 13 Reasons Why. He found us through an article on The Bay Bridged 'Mixtape: New Directions in San Francisco Bay Area Punk'. They needed a punk band for an episode on season 2. They had rerecord a cover of Wild in The Streets (originally by Garland Jefferys, then covered by The Circle Jerks) and asked for an additional song of our own (We used 'Cerebro Vomitado' from our 7" recorded with Greg).

Paramount needed us in the studio recording the cover pretty soon as the track was necessary for the shoot coming up soon after too. We hit up Greg at Earhammer but of course, Mortuous was recording their full length and had those days all booked up. Tiny Telephone was all booked up too. Time was running out, we had previously talked about what a luxury it would be to record with Jack Shirly over at Atomic Garden so we hit him up. He happened to be free the exact day when we were all available! He's usually booked up months in advance so this was a huge relief. We got the 'Wild In the Streets' song done in one session mid-September. Once we had his ear and were in the studio with him we talked about the possibility of recording an album with him. We booked some days in October 2017 to record the album and he sent us the album master November 2017.

Less than 2 weeks after receiving the master, this was December already, we magically got hit up by D'Arcy from Raw Head Records. "Hey! When's an LP coming out?" He asked us and it went on from there. Everything seemed to be working out super great! We sent the audio for test presses not much longer after that. He was excited to be working with us and was stoked on the recording!!

The next thing would be artwork. We talked with Saw Blade but the budget and time wasn't gonna work out, so went back and forth with D'Arcy looking at several different artists work. We had had our eyes on Skinner to do art for the previous 7", but knew it wouldn't work since we had asked him to do our previous 7", and he said "no, too busy". We decided to go with Luke Kislak from Eel since we love the flyers he does, especially the one for our show at Skull Fest previously. By January 2018 we had a concept, agreed on the price and Luke was getting started on it!! He said the art would be ready in two weeks.

We were fine with the art taking longer if Luke needed an extra month or so; but by mid-March 2018 the test press was approved and we still had no art. We were worried, so we hit him up. It turned out he had just gotten in a terrible accident. His hand was all bloody and cut and he was unable to do any artwork. We were trying to have the album ready for 'A Varning From Montreal' festival in Canada so we quickly needed to look for some more artists.

It was time to ask Skinner again especially since previously he had been our first choice and now had a closer relationship with him. We explained to him what happened with Luke. He was very understanding of our situation and wanted to help. He was generous with us, super great to work with. He had the art scanned and ready for us in less than a week!! This was incredible!

After all that it was time to bust out the layout. The band got together a couple times to work on it the next couple days and sent off the art to D'arcy, March 22, 2018. In the next few weeks we all agreed on the vinyl colours. By late May the pressing plant had informed D'Arcy the records ready to be mailed out!! We were so excited to see the records!

...

Months went by with no good news from the Raw Head Records. Come August 2018 the he let us know things weren't looking well and the label was over. Basically Raw Head ceased to exist and the bill had to be handed over to us if we ever wanted to see these records. It was way to much money for us, we hit up all kinds of labels to see what could be done to move these records. Eventually, Tankcrimes agreed to save the pressing!

November 2018 the records were finally shipped to us. Reprinting jackets with the Tankcrimes logo on it instead of Raw Head was out of the question. We changed the logo on the jackets with a clever sticker. The sticker worked out great!

We met up a few times after and/or before band practices to make these adjustments on the records. We enjoy the DIY aesthetic of the sticker to the back cover.

The record was finally released February 8th 2019 via Tankcrimes. 
Share