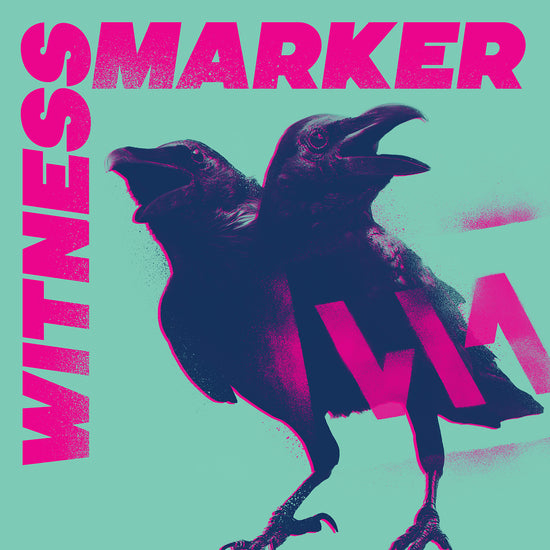 Witness Marker "S/T" 12"
Regular price

Sale price

$18.99

Unit price

per
Usually ships in 1 business days. This may be affected by holidays, promotions, local weather, etc.
"I'm writing about serious issues. I'm just not as cynical as I once was," says Chris Werner, vocalist of indie punk band Witness Marker. "I hope these songs, in their own way, offer a bit of optimism."
Encouraged by lead guitarist Bruce Ewell to explore more uplifting lyrical themes, Chris looked within himself and found the task at hand a challenge. The two musicians previously played together in a reunion of Chris' hardcore band, No One's Hero, where he screamed his words with aggression. In Witness Marker, he has softened the edge yet still sings with conviction while tackling themes that are at once personal and universal.
The song "Ron Wayne" is about finding your best self in your worst situations. "Worse for Wear" is a love song about having one's back no matter what happens. This maturation in Chris' lyrics, paired with Bruce's songwriting, yielded ten confident songs for their self-titled album co-released this year by Division Street Sounds and Not Like You Records.
Witness Marker began as a series of demos recorded solely by Bruce in 2017 under the name Burn It Backwards, inspired by a line in an Elliott Smith song. It was a slight change in sound for the Lancaster, PA, musician who grew up playing in skate punk-influenced bands. A long search for a singer frustrated him after several auditions proved fruitless. He then called Chris to gauge his interest in the project. Feeling unsure of what to expect, he sent him two demos only knowing "he would bring an originality to these songs." Chris, with his unconventional style of writing, added just the right amount of attitude Bruce wanted in his songs. After recruiting rhythm guitarist and brother Steve Ewell, he finalized the rhythm section with bassist Tyler Smith and drummer Nick Skladandy.
The band entered Noisy Little Critter recording studio in spring 2019 with the intention of producing songs for a self-released 7-inch vinyl trilogy. That was the plan until Division Street Sounds, discovered the band in the process of releasing a discography of the classic Lancaster band Kirk and The Jerks (who had been featured on the 1989 H-Street skate video Hokus Pokus).
Witness Marker spent their inaugural year not only recording but also playing shows at the storied Chameleon Club and in support of local skate park initiatives. With live music momentarily on hold for venues everywhere, the band anxiously awaits their return to stages in central Pennsylvania and beyond. More than anything though, they are ready for people to hear their debut album now.
Share